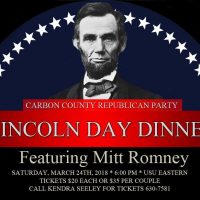 The Republican Party hosted a successful Caucus Night on Tuesday evening at the Carbon High School. Organizers were pleased with voter attendance and hope the upcoming Lincoln Day Dinner will bring the same results.
"This is something that is very unique to the State of Utah that we have this caucusing convention system and it's a way for everyone, regardless of party affiliation can go to their neighborhood caucus and have a part and a voice over who is going to be their parties' nominee for lots of different races," stated Vice Chairman of the Republican Party, Greg Dart. The delegates elected will be who will attend the County Convention on April 12 and the State Convention on April 21, as well as, vote to select candidates to run in primary and general elections. In Utah, there is an alternative for candidates to the caucus/convention system which is by gathering voter signatures to get on the ballot.
The next political event for the local Republican Party is the Lincoln Day Dinner on Saturday, March 24. "This is something that we've been putting on for quite a few years and it's a fundraising dinner where we get an opportunity to have some great speakers. We've put this together this year with the headline speaker being Mitt Romney," stated Dart. Romney is currently running for the U.S. Senate seat Orrin Hatch plans to vacate in 2019. It's unknown at this time if elected state officials will be in attendance due to the current budget resolution process taking place in Washington.
The tickets to the dinner are limited and less than 50 tickets are still available. "Its $20.00 per person or $35.00 for two and for that you get prime rib or crusted tilapia, so a great meal. It gives people a way to kind of engage and then see these people who are their elected officials and these candidates in a different light then standing up and giving a speech," said Dart. The best way for voters to obtain a ticket to the dinner is by calling 820-0017 or 630-7581. The event will start at 6:00 pm on Saturday, March 24 on the campus of USU Eastern inside the Jennifer Leavitt Student Center.