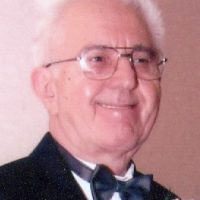 George, of George's Market, is how he will always be known. It is a title he loved as he loved being an entrepreneur, talking with his customers and bringing products to the store that served this very diverse community valued, whether that be feta, salami, olives or havarti. He took great pride in feeling like an important part of this community, serving it as its needs changed from lamb cuts from Market Center, to Italian subs for high
school students and meat and cheese trays for Christmas parties as George's Market and Deli.
George Poulos had great energy and endless love for his family. He passed away on April 5, 2018 surrounded by his wife, Helen Poulos, Father Seraphim and the wonderful Symbii hospice nurses. He died at home peacefully as he
wanted. He is survived by his wife Helen (Vanakliotis) Poulos, his sons Dino and Angelo Poulos; and, his daughters and their families – Stacy (Poulos) Tselekis, son-in-law Sarantos Tselekis and grandson Peter Tselekis; and, by Voula Christopoulos, son-in-law Eddie Burgle, and granddaughter Marie Burgle. He is also survived by two brothers in Greece – Theodore and Gregory Christopoulos, and his many nieces, nephews, grand-nieces and nephews; all of whom he adores. He is a small legend within his family in Greece as there are numerous stories of how uncle George helped different people either pay for school so his niece could get an education, buy pencils so another could go to school, offer money to help start a business, or walk his niece down the aisle for marriage because his brother couldn't walk.
Born July 10, 1930 in Gardiki Omeleon Greece, George immigrated to the United States in 1950 to heard sheep with his uncle in Greeley, Co. The seventh of eight children, George was educated and daring enough to travel
to this new land. Sheephearding turned out to be a short career for this very social man who found himself living and working in Grand Junction, CO and Chicago, IL before serving in the U.S. Army at Fort Leanordwood, MO.
From there his travels took him to San Diego, CA where he settled down to live in hopes of marrying a young Greek woman. He found this woman, Helen Valankliotis, on a trip to his hometown in Greece where she served rice
pudding in the train station. Through various twists and turns they met and married in Greece on September 22, 1960, then returning to the US. They came to Price to help George's uncle with a grocery store, and there their life blossomed with four children, a business and all of the joys of life that come with those experiences. George, and his family, have very fond memories of their time in Price, and will always consider it home, next of course to Greece.
George graduated high school in Greece and had some college as a draftsman in the United States. He is preceded in death by his parents Constantine Christopoulos and Paraskevoula Antonopulos, and by his brothers Christos, Tony, Panayioti and his sisters Vasso and the very young Evangelia. Their lives together were cut short by war and poverty in Greece at the time, but their bonds carry today through their children across countries.
Funeral Service, Tuesday, April 10, 2018, 11:00 a.m., Assumption Greek Orthodox Church. Trisagion service, Monday evening, 7:00 p.m., Mitchell Funeral Home. Family will receive friends Monday and Tuesday at Mitchell's
one hour prior to service. Interment, Cliffview Cemetery. Arrangements entrusted to Mitchell Funeral Home of Price where friends are always welcome daily and may share memories online at www.mitchellfuneralhome.net.