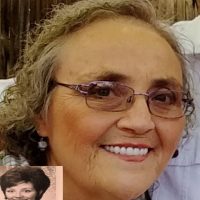 Sarah Dean "Deanie" Byrge, age 64, passed away peacefully on March 24, 2018 in Brighton, Colorado.
She was born in Price, Utah on May 18, 1953 to John Hector Reese and Mary Ellen Reese.
"Deanie" was a beautiful, loving, and generous woman and all who knew her, loved her. She had many talents so to call her a "Home Maker" is an understatement. She loved to paint and do sketch art. She also loved to crochet and was an amazing seamstress. For a short time, she also had done upholstery work. She left this world still very much in love with her late husband Rev. Luke Byrge. She loved being "Nana" to her grandchildren and great-grandchildren
Although she was a lifelong resident of Carbon County she spent the past two years enjoying life in Brighton, Colorado. She was always smiling and rarely missed an opportunity to talk someone's leg off. Her pure heart and unfailing love for her family and friends will leave a void that can never be filled. She will be deeply missed.
"Deanie" is survived by her two sons, Jason Byrge (Emily) Brighton CO, Jack Byrge (Bambi) Sherwood OR, many nephews, nieces, grandchildren and great-grandchildren as well as her little Chihuahua "Tinkerbell". She was "Momma Byrge" to so many and considered them all "her kids." Last but not least, a host of amazing friends.
Preceded in death by: John Hector Reese and Mary Ellen Reese (Parents), Rev. Luke Byrge (Husband), Patricia Rogers (sister), Connie Jeffs (sister).
There will not be a viewing because her wishes were to be cremated and placed with the love of her life, Rev. Luke Byrge.
Memorial service, Thursday, April 12, 2018, 11:00 a.m., Mitchell Funeral Home, 233 East Main, Price where the family will receive friends one hour prior to services. Interment, Cliffview Cemetery, Price, Utah. Arrangements entrusted to Mitchell Funeral Home where friends are welcome daily and may share memories of Deanie at www.mitchellfuneralhome.net.
We will have a luncheon at the Helper Auditorium immediately following the graveside service. We would be honored by all who could attend. In lieu of flowers, the family suggests donations to a Memorial Fund at Public Service Credit Union in Brighton, CO, 195 S Kuner Rd. Brighton, CO 80601.