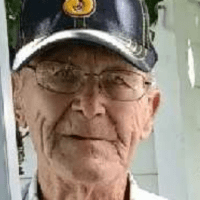 Thomas Earl Ward was born on August 24, 1934 at his father's farm in Cleveland, Utah to Earnest Edgar and Luella Nielsen.  He passed away on April 6, 2018 at his home in Wellington, Utah.
Thomas married Loretta Erma Olson December 30, 1954 in Cleveland, Utah.  Their marriage was later solemnized in the Manti Temple.  Thomas was raised on the farm in Cleveland and graduated as valedictorian of Huntington High School.  He enlisted in the navy and served until 1962.  After serving the family lived in Kearns, Utah and then settled in Wellington, Utah.  He worked at Kennecott, G.E. and Joy.  He was a devoted member of the LDS Church where he and his sweetheart served a mission at the Manti Temple.  Tom had a passion for fishing, hunting, gardening and an incredible talent for woodwork and painting.
Tom is survived by his wife Loretta and his children Bobby (Kathy), Tommy (Darla), Eddie (Lynn), Belinda (Danny), Jerry (Wendy), 18 grandchildren and many more great grandchildren.  Tom is also survived by countless family and friends who had a great impact on his life.  He was preceded in death by his parents, 2 sisters, 6 brothers and granddaughter Tina Ward.
A viewing will be Tuesday, April 10, 2018 at Fausett Mortuary in Price, Utah from 6:00 – 8:00 pm.  Funeral services on Wednesday, April 11, 2018 at Wellington Stake Center at 1:00 pm with a viewing from 12:00 – 12:45 pm.  Interment will follow at the Wellington Cemetery entrusted to Fausett Mortuary.  Family and friends may sign the guestbook and share memories of Tom at www.fausettmortuary.com.