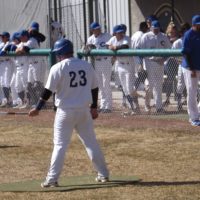 The Carbon Dinos scored eight runs in the final three innings to earn a monumental 14-10 win over the Union Cougars in Region 14 action Wednesday afternoon in Roosevelt.
Trailing 9-6 entering the fifth frame, the Dinos took the lead for good by scoring four runs in the top half. Union managed to tie the contest with one run in the sixth, but Carbon responded with four more in the top half of the seventh.
Zac Bradley pushed the Carbon offense in a 2-5 performance at the plate, registering two doubles and one RBI. Ty Anderson finished 1-4 with a triple and three RBIs. Anthony Jones also brought in three runs, ending 1-3 in the box.
Triton Abeyta recorded the win on mound for the Dinos allowing just three hits in 3.2 innings of work. Bradley started the contest, throwing the first 3.1 innings, giving up four earned runs.
Union senior Matt Williams enjoyed a stellar day at the plate despite the loss. Accumulating two hits in four at bats, Williams logged a game best four RBIs, while also knocking a double. As a team the Cougars outhit Carbon 11-9.
Entering Wednesday's game Carbon and Union were locked in a tie with Juab at the top of the Region 14 standings. The win moves the Dinos to 5-0, while Union drops to 4-1. Juab secured a ten-run win over Delta to remain unbeaten.
Carbon will return to the field on Friday to complete the season series with the Cougars. The second meeting will take place in Helper, and is scheduled to begin at 3:00 p.m..