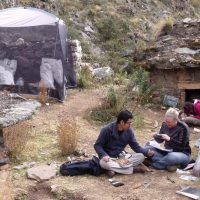 The USU-Eastern Prehistoric Museum will host A Meet and Greet for Sarah Herrera who is the new north zone archaeologist for the Manti-La Sal National Forest based out of Ferron, UT. The event will take place on Thursday, April 19 from 7:00 pm to 10:00 pm at the museum located at 155 East Main Street. She will present her Master's Thesis research titled Death and the Family: Testing Andean Lineage Tombs through Cranial Non-Metrics.
This research came from a site called Marcajirca located in the mountains of North Central Peru that were occupied from about 1020 to 1640 A.D. This site was a village with a large funerary component with over 50 distinct group tombs containing over 440 people. The presentation will explore how the analysis of human remains and tombs can lead to the identification of ancestor worship and the use of sacred places and ancestors. These elements are claimed to be a typical part of life in an extended kin social organization according to historical records in Peru. What has been found at the beautiful site of Marcajirca will be described as it fits into the broader social patterns in the region. To finish, there will be an explanation of non-metric cranial markers, the process of analysis and the results of the research as it pertains to family lineages and the mortuary practices at Marcajirca.
She holds an M.A. in Anthropology with a concentration in Bioarchaeology from Colorado State University and a B.A. in Anthropology with a concentration in Archaeology from Brigham Young University. She specializes in identification and analysis of human and faunal remains and pre-Columbian cultures in North Central Peru. She has worked as a Forest Service seasonal with Sara Stauffer during her undergraduate education and also worked for a Cultural Resource Management Firm doing archaeological mitigation projects in Wyoming and Colorado during graduate school. She is married to her best friend Frank and they have two kids: Abram is 4 and Adelaide is 8 months old. They moved here in November for her new position on the forest and are adjusting to and enjoying life in Ferron, UT.
PHOTO COURTESY OF USU-EASTERN PREHISTORIC MUSEUM