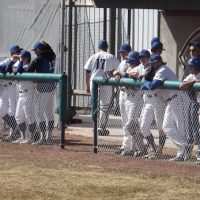 The Carbon Dinos earned a season-series sweep over the Union Cougars with an impressive 9-2 victory Friday afternoon in Helper.
Holding a slim 3-1 run entering the fifth frame, the Dinos took complete control by adding six more to their total. Friday's victory comes just two days after topping Union 14-10 in Roosevelt.
Cody Lowe delivered a solid 5.2 innings of work on the mound allowing just four hits and one earned run, while also striking out six. Collin Lewis finished the final four outs to help secure the win.
Ty Anderson's brilliant offensive performance propelled Carbon's offense, which scored in three of the team's six innings. Finishing 3-3 at the plate, Anderson recorded two doubles, two RBIs and one walk.
Zac Bradley, Jadon Robertson and Lowe all logged one RBI a piece. On top of a standout performance on the mound, Lowe also knocked one double and one triple in four plate appearances.
The Dinos were locked in a three-way tie for first place with Union and Juab entering the third week of division play. The two wins over Union gives Carbon an exceptional advantage with only four games remaining on the region slate.
Carbon will next travel on the road to meet the American Leadership Academy Eagles on Tuesday, April 17. The next home contest will follow on Friday, April 20, again against ALA.