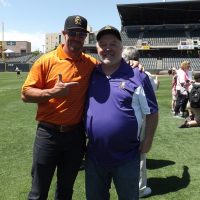 The Spencer's Wishes Swing True For Life Baseball Clinic, in conjunction with Major League Baseball's "Play Ball" campaign, is making a return to Smith's Ballpark in Salt Lake City on Saturday, April 21.
The clinic is free for boys and girls between the ages of eight and 12, giving them the opportunity to receive instruction from former major league baseball players on the same field used by the Salt Lake Bees. Each child participating will also receive tickets to the Bees that same evening against Albuquerque.
"The kids really just eat it up and they love to get to know the players," said Phil Roundy, Vice President of Spencer's Wishes. "If you are an adult and you have children who enjoy baseball or softball, this is the place to bring them."
While the event itself is free, transportation to and from the clinic is the responsibility of the parents/guardian of the children. A waiver must also be signed by the parent or guardian for each child to participate.
For more information on the event or to print the official registration form visit spencerswishes.org, or contact Roundy at (435) 630-0205.
*Photo: Phil Roundy poses with former Major League Baseball catcher John Buck.*