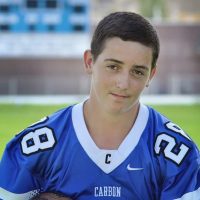 Our beloved son, brother and grandson, Isaiah Thomas Midgley-Brown, 19, passed away unexpectedly on April, 29 2018.
He was born September 1, 1998 to Sorena Michelle Brown in Salt Lake City and later moved to Price with his Mom and Dad, Darren Winder.
Isaiah was an amazing artist who loved music, but the most important things to Zay were his friends and family. He loved his little sisters, Lexi "Pexi" and Raine "Rainbow" and his brother, Christian "Boo-Bear". He always had a
hello and kind word for everyone. Isaiah had an amazing sense of humor and was a master of sarcasm. Isaiah was a graduate of Carbon High School Class of 2017.
Isiah is survived by his mom, Sorena Brown (Dan Chapman); dad, Darren Winder (Dusti); sisters, Lexi, Raine, Whitney, Tapanga and Storie; brothers, Christian, Gavin and Reagan; grandparents, David and Helen Winder, Barbara Chapman, Naomi Pace; numerous aunts, uncles and cousins.
He is preceded in death by his grandma, Jill Brown and his grandpa, William Brown.
A Celebration of Life will be held Thursday, May 10, 2018, 1:00 p.m., at Mitchell Funeral Home (233 East Main Street) in Price, Utah where the family will receive friends one hour prior to service. The family asks, in lieu of flowers anyone wanting to help may make a donation at Eastern Utah Community Credit Union. Arrangements entrusted to Mitchell Funeral Home of Price where friends are welcome daily and may share memories of Zay online at www.mitchellfuneralhome.net.