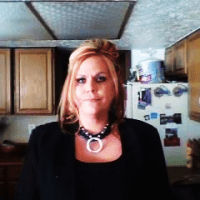 Troy Barney Cox was born on April 9 to Lanny and Soni Barney in Salt Lake City, Utah. She attended Emery County HS. Received her nail Tech certification in 2003.  Married to Jon Stringfellow in 1993.  Later divorced Married Scot Cox in 2003
Our beloved daughter, wife, mother, sister, cousin, niece, will be sorely missed by anyone that was fortunate enough to know her. When Troy touched your life, you never forgot her.
She is survived by husband Scot Cox, mother, Soni Barney, son, Jordan Stringfellow (Brittney), granddaughter Shaylee Stringfellow.  Three stepchildren; Brandon, Kyley and Kalen Cox. Seven step-grandchildren. Brothers, Jeff and Justin Barney

Preceded in death, McCoy, Isaac and Skyler Cox
There will be a Celebration of Life Saturday, May 12th, at the Fairgrounds Pavilion in Castle Dale, Utah, beginning at 12:30 to 3:00. An open invitation.   All are welcome.
Gone too soon.
One lifetime is not enough.
Until we meet again my darling.
I love you, Mommy
I'll be watching for you in butterflies.