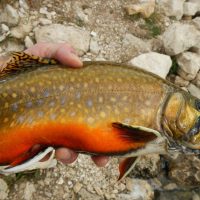 PRICE — Fishing is hot at southeastern Utah's community fisheries. So come fish alongside the conservation officers of the Division of Wildlife Resources and Carbon County Sheriff's deputies. They're hosting Law Enforcement Outdoor Adventure Day at the Carbon County Community Fishing Pond, 450 S. Fairgrounds Road in Price, on Free Fishing Day, which is Saturday, June 9. Youth of all ages are invited to participate in the free event from 9 a.m. to 1 p.m.
"If you have your own fishing gear, be sure to bring it. We'll have some fishing poles on hand for those that need them," said DWR Lt. Ben Wolford. "Another highlight of this event is our archery range. We'll have bows, arrows and a variety of targets for everyone to use and enjoy, including moving archery targets."
Free Fishing Day is the only day of the year when anglers can fish without a fishing license in Utah. All other fishing laws and rules, including daily limits, still apply.
In addition to fishing and archery, young outdoor enthusiasts will have a chance to handle a collection of pelts, antlers and skulls while learning about the animals that live in Utah's wild places. Lunch will be provided.
"We look forward to this event every year," Wolford said. "There's something here for everyone who enjoys being outside."
To register for the free event, visit https://goo.gl/YpUmNU. For more information, contact the DWR's Southeast Regional Office at 435-613-3700.