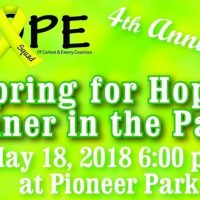 The Hope Squad of Carbon and Emery Counties is hosting their Fourth Annual Spring for Hope Dinner in the Park on Friday, May 18 at 6:00 pm. This free event will be held at Pioneer Park located at 550 North 100 East in Price.
This gathering is held to help educate the public to raise awareness on suicide prevention which is a problem our local area faces at a substantial rate. Hosting this during the month of May is a perfect way to recognized National Mental Health Awareness Month.
The evening will start with an inspirational message shared by a guest speaker, followed by an activity for survivors and family members who have lost a loved one to suicide to plant a perennial flower in honor of them in the Garden of Hope, Love and Remembrance which will be located in a special area inside the park. This will allow for guests to return at a later date to a very special place to visit where survivors may reflect on never losing hope and families remember their loved one lost to suicide.
After guests have enjoyed their dinner a torch lighting ceremony will take place. People can join by walking around the park and lighting one of the many torches set up at the corners of the park to signify "Come out of the Darkness" of suffering from depression, anxiety or hopelessness.
The Hope Squad of Carbon and Emery Counties believes that by hosting these community events is an effort to reach out to all, so no one individual has to feel or stand alone and that even in the darkest moments they are reminded that there is hope.
To learn more about the Hope Squad of Carbon and Emery Counties visit their Facebook page.