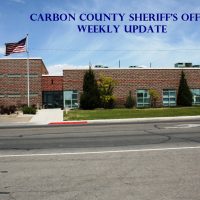 It's that time for many high school seniors in the area to attend their graduation and all the many party celebrations that follow. Whether it's a get together with family and/or friends, Carbon County Sheriff Jeff Wood wants to be sure that all high school students are safe when it comes to celebrating one of the happiest moments in a young adult's life.
"Now is the time as parents to start making your plans for you and your children for graduation night. Teenagers, I think they should enjoy the evening, I think they should blow off some steam they've had a good year," said Wood. "But I think they should do so responsibly and I think as parents you need to sit down with them and make a plan as to what is going to happen." Parents should set clear rules about alcohol/drugs, know exactly where their graduate plans to be throughout the night or set a curfew and encourage them to call at any time if they're put in an unsafe or uncomfortable situation.
All city and county law enforcement agencies have made the decision there will be a zero tolerance when it comes to underage drinking. "There will be an enhanced law enforcement presence. We want to make sure that everyone is safe. We don't want to be the fun-haters and the kill-joys but we do want to make sure everyone is legal and safe in their activities and that we are being responsible," stated Wood. The annual Graduation Spectacular held for local high school students is a great way to celebrate in a safe and sober manner.
To keep up on the news happening at the Carbon County Sheriff's Office visit their Facebook page.