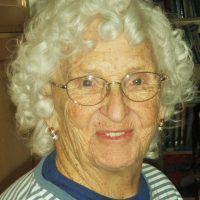 Elsie E. Malaska VanWagenen, 94, passed away on June 6, 2018 in Salt Lake City, Utah.
She was born September 10, 1923 in Clear Creek, Carbon County Utah to immigrant parents Mike and Susie Malaska. On April 16, 1947, Elsie married Ardath "Art" D. VanWagenen in Provo, Utah.
Elsie is preceded in death by her parents and siblings, William (Bill), Laurie, Jack, Ano, Pearl, Haulda and Sulo Malaska and her husband, Ardath Dee VanWagenen.
She is survived by her five children, Rick (Durango, CO), Charlotte and Janie (both of Salt Lake City, UT), Laura VanWagenen Lundquist (Tulsa, OK), Brad (Carbonville, UT) and four grandchildren, Andrew, Erika, Christopher
and Danielle.
Elsie was a lover of an active lifestyle and as a youngster she hiked and skied the mountains around Clear Creek and played softball on the coal camp teams. She was an active golfer and bowler during the many years she lived in Carbon County. The family would like to thank Elsie's many Carbon County friends and team members for their friendship over the years.
Thanks Mom for all your love, support and many spirited games of cards.
Graveside service, Tuesday, June 12, 2018, 12:00 noon at Scofield Cemetery. Family will receive friends at Mitchell Funeral Home Tuesday morning from 10:00-11:00 a.m. Arrangements entrusted to Mitchell Funeral Home of Price
where friends are always welcome daily and may share memories of Elsie online at www.mitchelfuneralhome.net.
In lieu of flowers, please consider making contributions to the Alzheimers Association