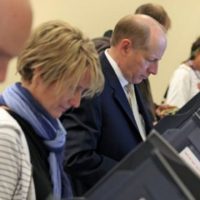 Early Voting in the Primary Elections will open the polls on Tuesday, June 12 till Friday, June 22 for registered voters in Carbon and Emery Counties.
Registered voters must present their photo ID before they are able to vote. If a voter has moved from the address listed on their current ID, they will need to present documentation showing their new address.
Any voters who are "Unaffiliated" will need to declare a party if they wish to vote for Republican candidates, the declare process can be done at the early voting polls. The deadline to change parties from Democratic to Republican has since past.
Carbon County voting will take place weekdays from 10:00 am to 6:00 pm at the County Administrative Building located at 751 East 100 North, any questions may be directed to the clerk's office at 636-3224.
Voting for Emery County will take place at the Clerk/Auditor's Office at 75 East Main Street in Castle Dale from 8:30 am to 5:00 pm and questions can be answered by calling the clerk's office at (435) 381-3550.
The Primary Election will take place on June 26 and the General Election will take place on November 6.