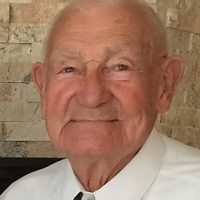 Our beloved husband, father, grandfather passed away peacefully surrounded by his loving family on June 24, 2018.
Ted was born November 4, 1930 in Centerfield, Utah to Jesse Bernard and Mary Ada Higham. Married his lifelong sweetheart Shirley Ann Miller on April 6, 1952 in Pioche, NV. Marriage later solemnized in the Manti Temple, September 12, 2015.
He served in the US Navy from 1947-1951.  He worked for Milne and Yellow Truck lines as a professional truck driver for 40 years.  Retired in 1992 and lived the life of a snow bird in Arizona.  He had three great loves in life Family, Horses and his Guitar.  He would spend hours watching old western movies, singing Hank Snow songs or taking walks around the neighborhood.  He was and active member of the Church of Jesus Christ of Latter Day Saints.
Ted was preceded in death by his parents, sister Nira and brothers Bernard, Burt and Larry.  Survived by his brother Jesse.
Those continuing his legacy include His wife Shirley, his children Alan (Carol) Castle Dale, UT, Blake (Sharilyn) Riverton, UT, Becky (Sam) Aurora, CO, Sherida (Mark) Westminster, CO, Mindi (Scott) Castle Dale, UT, 13 grandchildren, 17 great grandchildren, and 2 great-great granddaughters and one great-great grandson on the way.
Funeral services will be held Friday, June 29, 2018 at 11:00 at the Castle Dale 8th North chapel, 165 W 800 N, Castle Dale, UT.  A viewing will be Thursday, June 28th, 2018 from 6-8 at Fausett Mortuary, 720 N. Center St., Castle Dale.  Interment will be in the Castle Dale City Cemetery. Services are in the care of Fausett Mortuary. Friends and family may sign the online guestbook and share memories of Ted "R" Anderson at www.fausettmortuary.com