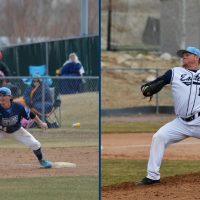 By Loren Miller, USU Eastern Sports Information:
PRICE – Two former Utah State Eastern baseball players will continue their careers at William Penn University this upcoming school year.
Jarrett Hunt and Chase Stratton have each signed a letter of intent to continue their playing careers at the NAIA school located in Oskaloosa, Iowa.
"We are very proud of both Jarrett and Chase.  They worked hard over the past two years to get the opportunity to play at the next level. They will be impactful players for WilliamPenn for the next two years," said USU Eastern baseball coach Scott Madsen.
Hunt was named to the All-Region XVIII first team after a stellar sophomore season at first base for the Eagles.
In 2018, Hunt hit .346 with 25 runs, 46 hits, seven doubles, 24 RBIs and an on-base percentage of .453.
The lefty also pitched in nine games with a 1-1 record, 22 strikeouts and a 3.15 ERA.
Hunt said he chose to continue his playing career with William Penn because of the opportunity to play for longtime head coach Mike Laird.
"He wanted me to come and showed a lot of interest in me. He has been there for 30 years and has had 15 30-win seasons and has appeared in the World Series on multiple occasions and is a really respected individual and coach," said Hunt.
Stratton was a regular in the pitching rotation and outfield during his career at USU Eastern the past two years.
On the mound in 2018 he pitched in 13 games and ended the season with a 4-6 record and a 5.40 ERA along with 59 strikeouts.
At the plate Stratton hit .143 with six RBIs, five hits, six runs and a home run.
Both players helped the Eagles reach a record of 22-27 overall and wins over nationally ranked teams in 2018.
They are the fourth and fifth baseball players from this past season to sign with four-year schools.
Pitcher Jarod Lessar signed with BYU, third baseman Jesse Rowley signed with CSU-Bakersfield, and shortstop Cole Fossat signed with Dixie State.
"It is exciting to see players success show after being able to watch the time and effort they put in that is needed to get to that point.  I can't wait to see the success that they have at their new baseball programs," said Madsen.