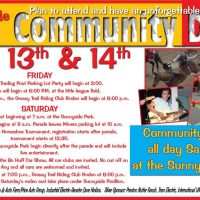 East Carbon City would like to invite everyone to come out for the annual Community Daze celebration taking place on Friday, July 13 and Saturday, July 14 at Sunnyside Park.
Festivities will begin on Friday evening at 3:00 pm for the Sixth Annual Miners Trading Post Parking Lot Party where all proceeds made will benefit Bruin Point Elementary. Guests can enjoy live entertainment by the Mountain Pacific band, plus enjoy various food items such as mouthwatering pulled pork sandwiches, hot dogs off the grill, sweet cotton candy, popcorn and tasty snow cones. There will be opportunity drawings, dunk tank, kid's games including face painting and hair stenciling. For more information CLICK HERE
At 6:00 pm head over to the Little League Field to enjoy the Color Daze Dance sponsored by Carbon Medical and The Helper Clinic. The event will have various bags of colored chalk that may be purchased for $1.00.
On Saturday, July 14 enjoy breakfast in the park at 7:00 am. Parade registration begins at 9:00 am, with the parade set to start at 10:00 am in front of Miner's Trading Post and ending at the park. Any businesses and/or civic groups that would like to participate in the parade are to meet with the parade chairperson at Miner's parking lot.
Following the parade, guests can enjoy many activities in the park, live entertainment bounce houses, numerous vendors featuring clothing, sunglasses, homemade crafts and don't forget the delicious food items like barbeque pork sandwiches, hamburgers, teriyaki bowls and Navajo Tacos. Any vendors interested in setting up a booth may find information and an application at Community-Daze-Vendor-App.
The horseshoe tournament will start registration after the parade. The singles will be a single elimination tournament starting at 12:30 pm and will be capped at 20 individuals. The cost to participate is $10.00 per person. The doubles will be a double elimination tournament immediately following the singles and the cost to participate is $20.00 per team. Cash prizes will be awarded to the top three in both categories. Community-Daze-Horseshoe-Tournament
Community Daze wouldn't be complete without the annual Bo Huff Car show that takes place on Saturday. Since the passing of Bo in 2015, his son, Junior has taken over the wheel to continue his father's legacy.  The car show begins with registration at 8:00 am with an entry fee of $20.00. All car clubs are invited to participate with any and all cars.
Bo-Huff-Rockabilly-Car-Show
The kids' rodeo will start at 7:00 pm followed by the Grassy Trail Riding Club Rodeo at 8:00 pm on both nights of the celebration. A dance for adults only will be held at the Sunnyside Pavilion to close out the weekend's festivities.
A complete schedule for East Carbon Community Daze CLICK HERE