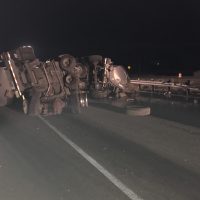 Local law enforcement, hazmat and fire agencies are on scene responding to a tanker rollover on Westbound Lane of Highway 6 near the Carbonville On-Ramp. The accident took place in an active construction zone but the cause is under investigation. The out of town Maverick Tesoro Trucking Driver entered oncoming traffic, hitting the bridge, causing the tractor and trailer to roll. The rollover left the tanker severely damaged leaking an approximate 8,000 gallons of waxy crude oil on to the highway and spilling into the Price River below.
Hazmat technicians placed booms at multiple locations downstream. Price River Water Improvement District is aware of the situation as is the Environmental Protection Agency (EPA) and would like everyone to know that
the drinking water is safe, this incident took place below the water treatment plant, meaning that the spill is not effecting drink water or agricultural water. Carbon Canal has diverted some water away from the river to avoid further contamination and expedite mitigation efforts.
Highway 6 from the Carbonville Exit through Exit 240 is closed until further notice. We ask that you avoid this area if possible. All traffic is being diverted through Carbonville. Keep in mind that the speed limit on Carbonville Road is 45 miler per hour. If you are traveling this area, please use extreme caution as many crews are on-scene working vigorously responding to this incident.