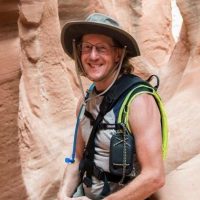 Jim Keele passed away at his home on July 25, 2018.
Jim was a teacher at Emery High School for more than 20 years where he changed hundreds of lives with his passion for teaching and his love of his students. He especially loved his construction classes, and helping his students expand their knowledge. He was so proud of their accomplishments.
He had a great love for the San Rafael Swell and shared his adventures with the world through his amazing photography and his stories. We wish he had more time on this Earth to document his adventures. What a book that would be!
Jim is survived by his daughter, Nila Keele, and his precious granddaughter Ruby; parents, Rickie and Mary Keele; sister, Lloy (Ed) Beauchamp; and his Love, Micki Jackson.
There will be a memorial service for Jim on Friday, August 3, 2018 at 7:00 p.m. at the Blue Hills Ward in Ferron. The family will be available to accept condolences from 6:00 – 6:50 p.m. All are welcome to join us in celebrating Jim's life.
Family and friends may sign the online guestbook and share memories of Jim at www.fausettmortuary.com.