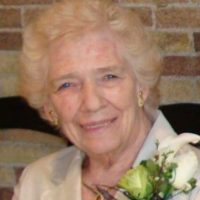 Ina Claudine (Hunt) Spadafora, 89, of Green River, Utah passed away peacefully Sunday, August 5, 2018 at Legacy House in Spanish Fork, Utah in the company of family.
Ina was born June 26, 1929 in Green River, Utah to Lafayette and Rua Ette (Watson) Hunt. She married Adolph Marion Spadafora December 10, 1949 in Green River, Utah where they lived and raised their seven children.
Ina always greeted everyone with happiness and love. She was devoted to her family first and foremost. She especially loved visiting with her grandchildren and great-grandchildren, teaching her grandchildren how to cook and pull mints, and serving others in her community. She will always be known for her great hospitality, elaborate meals, oodles and oodles of candy treats at Christmas and yummy homemade rolls.
Green River residents will remember her as their very first Melon Days Queen, as well as the many hours she spent cooking meals at the senior center for many years. She was a faithful member of the Church of Jesus Christ of Latter Day Saints and has spent many hours serving in various capacities including serving in the Relief Society presidency multiple times. Ina was also known as the town wedding cake maker adding her special touch with beautiful hand rolled gumdrop roses.
Ina is preceded in death by her husband and her oldest son Paul Spadafora. Ina is survived by her sister Janet Tucker (Jared), her children Janiel Mayall, Randy Spadafora (Kerry), Tracy Spadafora (Jennifer), Russell Spadafora (Julie), Marty Spadafora, Kelly Spadafora (Jennifer) her daughter-in-law Debbie Spadafora, 24 grandchildren, and 27 great-grandchildren.
Funeral services will be held Saturday, August 11, 2018 at 11 am at Green River LDS Chapel. There will be a viewing that same morning from 9:30 to 10:45 prior to the services. Interment will be in the Elgin Cemetery, Green River, Utah. Services are in the care of the Fausett Mortuary. Family and friends may sign the online guestbook and share memories of Ina at www.fausettmortuary.com.