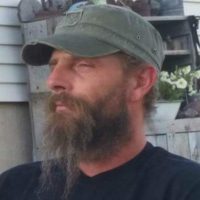 Robert D. Kessler, 44, was born December 16, 1973 in Price, Utah to Lloyd and Jackolyn (Jackie) Williams Brown. Robert was fatally injured on the job while driving a work truck in Island Park, Idaho on July 27, 2018.
He leaves behind three children whom he adored, Kyle Jones, Santaria Kessler and Andrew Kessler, and their mother, Melanie Jensen.
Robert was preceded in death by his step-father, Arthur Shane Brown; brother-in-law, Jack Olson, and his childhood best friend, Ron Ricketts.
Robert is survived by his three children and two grandchildren, Talon (4) and Taeya (3); his parents; sisters, Keri (Rick) Miller, Teri (Danny) Barney and Mindy Olson; brother, Lloyd (Dolly) Kessler; brother-in-law, Russell
Adam Jensen and many nieces and nephews.
Robert married his high school sweetheart, Melanie, April 1995, in Las Vegas.
Robert loved to play his guitar. He had a passion for writing his own music, made several CD's and performed in numerous bands in the Salt Lake City area. Robert also tutored his daughter to play the guitar, who shares her
dad's talent. Robert was always willing and able to lend a helping hand to family and friends.
Robert loved playing with his children and making them laugh. His children know he will be watching over them from Heaven.
Memorial service, Friday, August 10, 2018, 1:30 p.m. at Mitchell Funeral Home in Price, Utah (233 East Main Street) where the family will receive friends one hour prior to service. Interment, Cliffview Cemetery, Price. Arrangements entrusted to Mitchell Funeral Home of Price where friends are welcome daily and may share memories online at www.mitchellfuneralhome.net.