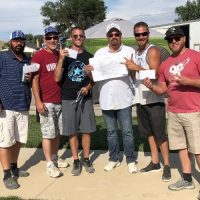 The Emery County Fair Horseshoes Tournament brought in 17 teams as duos battled through a double-elimination competition that lasted nearly five hours Saturday afternoon.
The team of Brett Davis and Bob Onstott claimed first place as the team moved through the winners bracket unscathed. Chad and Cody Allen, last year's champions, finished second place. Moge Cologie and Carl Beckstead rounded out the top three.
Each participant received multiple items that were provided by the Emery County Fair organizers. The event brought in several new faces, and provided heavy competition for those in attendance.
After a group of tournaments that took place between Carbon and Emery County, a fall horseshoe league is being developed. For more information contact Rochelle Badback at (435) 820-6636.