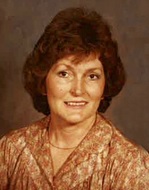 Reva Stokes Gordon passed away Friday, September 7, 2018 at her home after many years of debilitating health issues.
She is having a grand reunion with her husband Ross, her sons Mark & LaMont, siblings Donald, James, Gary, Corinne & Helen, her parents Zella Alger & James Alfred Stokes and mother and father-in-law Vaughn & Libby Gordon.
She and her twin brother Ray were born August 29, 1930 in Cleveland, Utah.
Reva grew up doing chores on the family farm. While growing up she developed her many talents and love of music.
She graduated from North Emery High. She married her high school sweetheart Ross Von Gordon on June 10, 1948. Later solemnized in the Manti temple.
They were blessed with six children: Dennis Ross (Peggy), Don V (Paula), Mark (deceased), Charlene (Rue) Bell, LaMont (deceased), Brenda Lee (Hallie) Lemon.
She worked at the Castle Valley Credit Union, Huntington Power Plant, and Hunter Power Plant where she retired after 20 years.
She was a member of the Church of Jesus Christ of Latter-day Saints and held numerous callings.
Her great talents include award winnings quilts, crochet, embroidery, knitted pieces, and beautiful oil paintings. She had a beautiful voice and shared it with many at funerals and special occasions.
She took great pride in her yard and home and always kept them both immaculate. She loved taking care of her flowers and especially her roses.
While she was homebound she continued to bless and influence the lives of many people through cards and friendships.
She is survived by twin brother Ray Stokes and brother Garth Stokes, four children, twenty grandchildren and fifty-one great grandchildren.
The family wishes to give special thank to CNS, Dr. Potter, The Brent Gordon family, and all those who made it possible for her to remain in her home.
A viewing will be held Friday, September 14, 2018 at the Huntington Stake Center from 6:00 – 8:00 p.m. Funeral services will be Saturday, September 15, 2018 at the Huntington Stake Center at 11:00 am with a viewing from 9:30 – 10:30 am. Family and friends may sign the online guestbook and share memories of Reva at www.fausettmortuary.com.