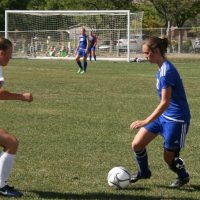 By Daryn Mason:
After a compelling first half the Carbon Lady Dinos were unable to keep pace with the Juab Wasps, suffering a 5-2 loss in a Region 14 contest Tuesday afternoon in Price.
Trailing 2-1 at the midway point, Carbon allowed three goals over the final period of the play. Despite showing signs of breaking through offensively, the firepower of Juab proved to be too much.
Grace Broadbear scored once for Carbon, giving her a total of a team-high 10 on the season. Ryan Brady scored the team's other goal, giving her eight through eight games.
"We were disappointed to lose, but overall we felt like we played really well, so were happy with the way our team played," said head coach Cynthia Lancaster. "They had some lucky goals and I think we can make some adjustments and beat them next time. Overall I think our team is playing really good and we're excited about how our region (season) has been going."
After starting the region portion of the schedule 4-0, Carbon has now suffered back-to-back losses for the first time this season. With six games remaining on the regular season slate, the Lady Dinos are third overall in the division, trailing Juab by one game for second.
Carbon will have an opportunity to end the current losing skid when they return to the field Thursday at home against Union. The two teams met once already this season as the Lady Dinos cruised to a 5-1 win in Roosevelt back on Aug. 21.