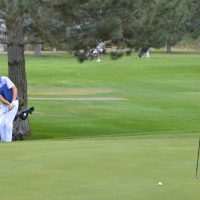 A steady team performance lifted the Carbon Dinos to their sixth win in as many Region 14 meets this season Thursday afternoon at the Canyon Hills Golf Course in Nephi.
Ending with a team score of 324, the Dinos topped second place Delta by eight-strokes on their way to a first place finish. Union followed in third with a 336, edging out fourth place Providence Hall by four. Juab, American Leadership and Maeser Prep completed the field of seven.
Carson Martines delivered the low score of the afternoon for the Dinos finishing with a stellar 76. Nick Olsen continued his outstanding play of late with a 79. Brady Gagon shot an 82 and Kaden Slavenksy recorded the fourth score with an 87.
Entering the meet with a dominating 103-stroke lead over Delta for first place in the region, the Dinos managed to extend that advantage to 111. Delta is currently 41-strokes better than third place Union.
The region portion of the schedule will wrap up Tuesday as the seven schools head to Fox Hollow, the home site of Maeser Prep. The State Championship Tournament will take place Oct. 1 and 2 at Meadow Brook.
Below are the current Region 14 standings following Thursday's meet:
| | | | | | | | |
| --- | --- | --- | --- | --- | --- | --- | --- |
| Team | Overall Score | Region Meet 1 | Region Meet 2 | Region Meet 3 | Region Meet 4 | Region Meet 5 | Region Meet 6 |
| 1- Carbon | 1,961 | 334 | 295 | 359 | 330 | 319 | 324 |
| 2- Delta | 2,072 | 336 | 332 | 365 | 347 | 360 | 332 |
| 3- Union | 2,113 | 336 | 339 | 393 | 350 | 359 | 336 |
| 4-Providence | 2,213 | 389 | 350 | 388 | 389 | 357 | 340 |
| 5- Juab | 2,222 | 373 | 348 | 407 | 364 | 377 | 353 |
| 6- ALA | 2,392 | 425 | 408 | 398 | 401 | 386 | 374 |
| 7- Maeser | XXX | 489 | XXX | 460 | 461 | 460 | 434 |