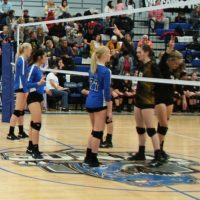 By Daryn Mason, Castle Country Radio Sports:
The Carbon Lady Dinos lost a hard fought Region 14 contest to the Union Cougars in straight sets Tuesday night at home.
"I'm obviously kind of disappointed in the loss and our energy level," said head coach Teresa Mower. "I feel like it was down a little bit today, but I have to realize that the girls are young and were still growing, developing and improving."
Despite the straight sets loss Carbon battled in each of the three games. After dropping the first set 25-20, the Lady Dinos pressed Union in a 25-21 second set loss. The match came to a close as Union ousted Carbon 25-22 in the third and final set.
Tuesday's loss dips Carbon's Region 14 record to 6-3, placing them third overall. Union improves to 7-1, which is good enough for second. Delta remains the top team in the region with a record of 9-1.
"The girls are slowly learning, but I think that they've got a long ways to go," said assistant coach Maquette Smith, "We have three sophomores out there, which is huge. They play their guts out for us every time. I think it's just letting those older girls catch onto that fire of wanting to play hard through the whole game instead of just parts of the game that will help them become better."
Only two region games remain on the regular season schedule. Next the team will travel to Delta on Thursday, before finishing at home Tuesday against Providence Hall.