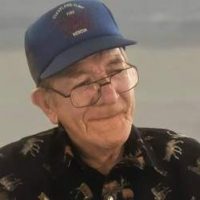 Our beloved husband, father, brother, grandfather and longtime friend, Garold Robert Schade, 75, passed away November 1, 2018 in Price.
He was born August 15, 1943 in Price, Utah to George Rodney and Wauneta Ruth Wilson Schade. Married Darla Marlene Tucker, April 27, 1963 in Elmo, Utah.
Fat worked as a machinist, a security guard and a coal miner, which ended his career. He was a devoted family man who loved to go fishing, hunting and camping. Our fondest memories are the many elk and deer hunting trips in Huntington Canyon. His family was the pride and joy of his life. He volunteered for the Cleveland/Elmo Fire Department for 20 years, many of those years serving as the Fire Chief.   He was very instrumental in fundraising for the Fire Department. He helped build and organize the Spook Alley and Annual Swap Meet. He also helped with the Cleveland fireworks. He was a man of many talents, a jack-of-all-trades.
Fat really enjoyed working on cars, there was not a car around that he couldn't fix. He even built a gear for a backhoe once and it fit perfectly! He was great with his hands. He enjoyed wood-working. He could make anything out of wood, you name it he built it, from 3-dimensional wall hangings, cedar chests, roll top desk, gun cabinet, toy boxes, rocking horse, chairs, and a log cabin doll house, etc. He was also excellent at embroidery and quilting. He and mom made several baby blankets together. They also made many wildlife quilts for us older kids and grandkids. He was also the "The Best Perm Giver" ever, just ask his wife or any of his girls! His quick wit and humor will be greatly missed by all who knew and loved him.
Garold is survived by his wife, Darla Schade, Elmo; one son, three daughters and their spouses, Jerald (Wendy) Schade, Elmo, Debbie (John) Jones, Helper, Connie (Chad) Jones, Cleveland, Bonnie (Ralph) Williams, Helper; 18 grandchildren and 41 great-grandchildren; three brothers and three sisters, George (Alta) Schade, Price, Tom (Dorthy) Schade, Huntington, Carl (Judi) Schade, Price, Lynda (Jeff) Smith, Mona, UT, Jean (James) Adams, Boise, ID, Sandra (Brent) Jewkes, Ferron; brothers-in-law and sisters-in-law, Claudette, Arline, Margie, Adell and Wes; Max Lee (Eva), Renee, Tommy, Gary, Monte (Pat), Margie and Carma.
Garold was preceded in death by his parents, great-granddaughter, Angel Espino; six brothers, Brent, Jim, Dick, Jerald, Will and Ralph Schade; three sisters, Ruth, Becky and Dorothy; and brothers-in-law, Jess and Earnal.
A Celebration of Life will be held Saturday, November 10, 2018, 1:00 p.m. at the Old Cleveland Town Hall (100 West Main Street) where the family will receive friends one hour prior to service. Potluck luncheon to follow. Arrangements entrusted to Mitchell Funeral Home of Price where friends are always welcome daily and may share memories of "Fat" online at www.mitchellfuneralhome.net