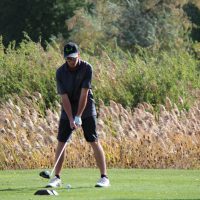 Emery High School senior Oakely Toomer is one of ten 3A golfers to qualify for the 2018 All-State First Team, it was announced by the Utah Section of the Professional Golfers Association of America earlier this week.
Helping the Spartans qualify for the state tournament in the heavily competitive Region 15 division, Toomer was a standout all season long. The success carried over into the state tournament where he finished second overall, just one-stroke back of first place.
The 3A State Champion Morgan Trojans led the way with four first-team selections, including 3A medalist Nathan Preslar. North Sanpete finished with two, while Emery, San Juan, Judge Memorial and Union ended with one representative.
The All-State nod is the highest individual accomplishment for a Spartan since McKoy Holt and Race Nielson earned second team All-State selections back in 2016-17. Toomer was also selected as an honorable mention during that same year as a sophomore.
The Utah Section PGA extends the honor of First Team All-State to the top ten golfers in each classification, the next ten are selected to the Second Team, and the next ten after that are selected to Honorable Mention.
The Utah Section of the PGA of America has been actively supporting high school golf for over 25 years. Twenty years ago they developed the Utah High School All-State Golf Program. The All-State Golf selection process is unique among all-state honors programs in that it is all by the numbers. Thirty-five percent of a players best region scores and sixty-five percent of their state championship scores are used to rank each player.
All First Team All-State players will be invited to the All-State Invitational tournament and Banquet at the end of May.
Click HERE for the complete All-State Selections.
**Photo courtesy of ETV 10 News**