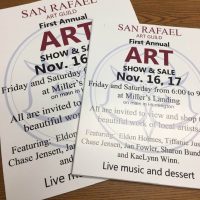 The San Rafael Art Guild is thrilled to be hosting their First Annual Art Show & Sale on November 16 and 17 from 6:00 pm to 9:00 pm at the Miller's Landing Event Center in Huntington. The group is made up of several local talented artists from all walks of life both seasoned and those establishing a new hobby.
"For the last little while, years I would say, I've been contemplating the idea of starting an art guild. I have a lot of enthusiasm for creative pursuits and I recognize the benefits that it has for individuals and communities," said Director KaeLynn Winn. "It's just a chance for the people in our community to come out and see the talent that is available here locally and support that." New members are always welcomed to the Art Guild meetings to come to share their ideas, knowledge and overall love for the arts. There is a $50.00 annual membership fee that helps to fund the annual art show and sale.
The evening's event will be a great chance to get a head start on some unique holiday shopping. "To give you a general idea, the most expensive thing would probably would be the sculptures and we will have thing in the price range of $10.00 to $15.00 on up to $1,000.00 and the bronze sculptures may be even more expensive," stated Winn. The featured artists include Eldon Holmes, Tiffanie Justice, Chase Jensen, Jan Fowler, Sharon Bunderson and KaeLynn Winn.
There will be live music, light refreshments and free admission.