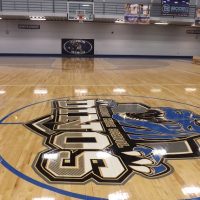 A slow start once again plagued the Carbon Dinos as the team slipped to 1-4 on the young season with a 59-39 loss to the Uintah Utes Tuesday night on the road.
Looking to rebound from a 1-2 weekend in Grand Junction, Colo., the Dinos scored just 13 points in the opening. Entering the third quarter trailing 32-13, Carbon managed to get within 10 in the fourth quarter, but could not erase the lengthy deficit.
"Before the game we come out ready, but we continue to struggle early in games," said head coach Kyle Wilson Wednesday on KOAL's Drive Time Sports. "We just haven't shot the ball well in the first half. We need quality possessions in the first quarter, just like in the fourth."
Playing without senior leader Derek Hillam, the Dinos found offensive consistency from Kaleb Nelson who finished with a team-best 11 points. Collin Lewis stuffed the stat sheet, ending with eight points, nine steals and six rebounds,
Uintah was led by Logan Timothhy who ended with a game-high 21 points. Camon Anderson contributed nine to help Uintah earn their first win since January of 2017.
Carbon will have two nights of rest before returning to the court on Friday at home against the Emery Spartans. Friday's tilt will be the first of two meetings with Emery this season and the last before Region 14 begins next Wednesday.