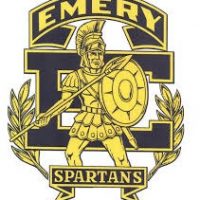 Senior Kyson Stilson scored a game-high 18 points as the Emery Spartans easily defeated the Maeser Prep Lions 83-38 Wednesday night in Lindon.
Competing in their first road contest of the year, the Spartans outscored Maeser Prep 24-5 in the opening quarter. The offense continued to fire on all cylinders, gathering a 51-20 lead by the end of the first half.
A total of nine players scored at least two points in the most lopsided win of the year for the Spartans. Brodie Tuttle connected on four shots from deep as he finished with 14 points. Rance Jensen poured in 11 and both Justin Rasmussen and Brax Jensen finished with 10.
Hugh Jackson and Aaron Gustaveson each scored nine points for the Lions in the loss. Carson Bailey finished with eight, while Mitch Gregory and Aaron Cho contributed five.
Wednesday's win moves the Spartans to 3-1 on the young season, and comes following a loss to Maple Mountain last week.
Faced with a three-game road trip, the Spartans will now travel to Price for a meeting with the Carbon Dinos Friday night. Live coverage of the non-region tilt will begin at 6:30 on KOAL 107.3 FM, 750 AM and KRPX 95.3 The Peak. Tip-off will follow shortly after at 7:00.