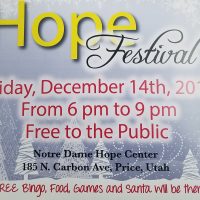 The Southeast Utah Health Department and Four Corners Community Behavioral Health are excited to host another HOPE Festival on Friday, December 14 from 6:00 pm to 9:00 pm at the Notre Dame Hope Center on 185 North Carbon Ave.
"This event every year we sponsor. It's a free dinner for the whole community, it's free to the whole community. We have dinner catered and Santa Claus is coming, we'll have little trinkets for all the boys and girls that come sit on his lap," explained Suicide Prevention Specialist, Amanda McIntosh. Children will be able to enjoy games like a cake walk, a fishing pond while opportunity games will be available for the older kids and adults with chances to win some fun prizes donated by local businesses.
McIntosh stepped into her new position as Suicide Prevention Specialist less than 3 months ago, "I started my position on October 1, however my journey with suicide prevention actually started when my husband, Brian took his life on July 21, 2014 and since then it has been a passion of mine to get the word out about mental health and the stigmas that surround suicide and trying to change those for the better." She is working very hard to make the community aware of the local resources so that an individual that may be in crisis will know where to go for help.
She has been quite busy trying to work with the local schools to see how the HOPE Squad can start suicide prevention within the schools at an early age. "I have met with the Superintendent of both Emery and Carbon County as well as the principals of both counties to let them know that I am here and that I want to be involved in their schools and their bullying policies, they are hoping to bring in HOPE Squads to the middle and high school levels so that they have resources for their peer," said McIntosh.
In the short amount of time in her position, she has also established a women's group. This group is for women to gather once a week to take about life challenges whether that be work, family, mental health – any crisis that they may just need to talk about. McIntosh explains the importance of starting this group, "I have a women's group started but I'm hoping to continue it and grow it in 2019. Because so many times the statistics show that men are leading the numbers when it comes to suicide but our women are attempting to take their lives at three times as many." She feels that the group can help one another with various topics and she often invites guest speakers who have a plethora of information to assist the women with some of life's challenges. The group meets every Wednesday evenings from 6:30 pm to 7:30 pm at the Southeast Utah Health Department where daycare services are provided if needed. Continuance of the group after the new year will be contingent on interest and involvement.
For information on the HOPE Festival or Let's Talk About It group meeting please call (435) 636-1153.