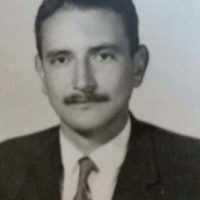 German Alvarado, age 82, passed away December 22, 2018 in Ferron, Ut. German was born December 18, 1937 in Bogota, Colombia to Guillermo and Josefina Morales Alvarado.
He married Ma-Stella Guaqueta in 1957 in Bogota, Colombia.
German had a charming personality and knew how to wheel and deal. He lived for the next deal. German was a good dad and pushed his family to be the best they could be. Dad will be dearly missed by all of his family.
He is survived by his wife of Ferron, Ut; Daughter; Maria Victoria McGuinness of Atlanta, Ga; Sons; William (Crystal) Alvarado, of Ferron, Ut; Ronnie (LaDonna) Alvarado, of Manchester, Tn; Sergio Alvarado, of Acworth, Ga; Oscar Alvarado, of Gainesville, Ga. Also survived by 3 grandchildren, Adam, Brigit and Matthew. German was preceded in death by a Grandson, Nicholas.
Memorial Services will be held at a later date. Services entrusted to Fausett Mortuary, Castle Dale, Ut.
Family and friends may sign the online guestbook and share a memory of German at www.fausettmortuary.com