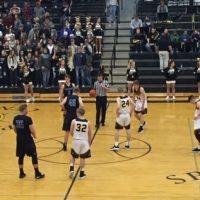 The Emery Spartans methodically built a comfortable lead in the first half, but exploded offensively in the second to race past the Carbon Dinos 107-57 Saturday night at the Spartan Center in Castle Dale.
Holding a 47-30 at half time, Emery outscored Carbon 34-12 in the third quarter. Both coaches dug deep into the bench for the fourth period as Emery added to the advantage with a 26-15 run to close out the game.
"Coming back off of a tough loss was important and I think it gave us the extra boost tonight," said senior Brodie Tuttle. "Being able to score 107 points isn't something I was expecting, but I'm glad it happened."
Senior Kyson Stilson delivered a game-high 26 points as the Spartans snapped a two-game losing skid. Tuttle chipped in with 17, 15 of which came from beyond the arc. Brax Jensen helped push the offense with a 16 point performance.
Playing without senior starters Derek Hillam and Ty Anderson, the Dinos battled well for most of the first half. Trailing by only eight with three-minutes remaining in the opening half, Carbon was unable to keep pace with a dominate Emery offense.
Kaleb Nelson posted a team-best 19 points for the Dinos, while proving to be a force on the glass. Collin Lewis also reached double-figures with 17 points as Carbon suffered a loss for the first time in three games.
Saturday's win moves Emery to 8-3 overall on the season and gives them a season sweep over the Dinos. After falling to Carbon in 2016, Emery has now won three straight in the rivalry match-up.
"It feels great to get a win over Carbon again," said Tuttle. "We lost to them in football for the first time in a long time, so being able to beat them twice in basketball it feels great."
Both teams will resume region play with home games on Wednesday. Emery will look for its first league win of the season against Manti, while Carbon will play host to Union.