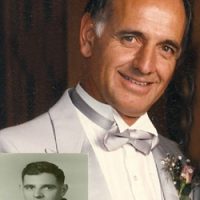 Raymond Howard Gazell, age 84, passed away January 4, 2019 at his home while surrounded by his family after a long battle with Parkinson's and a more recent battle with cancer.
He was born January 27, 1934 in Helper, Utah to Toffee and Pearl Jensen Gazell. Ray married the love of his life, Virginia Monfredi on December 1, 1953 in Winnemucca, Nevada. Shortly after he was married, he served in the US Navy where he studied electronics.
Ray was a member of Notre Dame de Lourdes Catholic Church where he served as a Eucharistic Minister under Father Mike. He was a successful businessman and a lifelong resident of Carbon County. Ray owned a TV sales and repair business for several years. He also owned vending machines, pool tables, pinball machines and juke boxes which were placed in local businesses. He later played a major role in the startup of MIV cable in Wellington, which was eventually sold to TCI cable of Price. Then he owned Home Satellite Dish for several years until he retired in 2008. We always felt that dad was ahead of the game when it came to his business ventures. Ray had the entrepreneurial spirit and always wanted to be his own boss.
Most of all he loved his family and was a devoted husband, father and papa. Ray was a smart, kind, caring and gentle man who was always willing to help anyone in need. He had a beautiful heart and soul! Though he struggled with Parkinson's for years in his later life, he never complained and he bore his suffering bravely. We love him and will miss him greatly. You are the best papa in the world! WE love you to the moon and back! Until we meet again.
Ray is survived by his wife, Virginia Gazell; son, Tom (Lisa) Gazell, daughters, Gina (Joe) Keller, Christie (Ben) Darling, all of Price; grandchildren, Kris (Chantelle) Gazell, Bryan (Amy) Gazell, Nicole Keller (Jared D'Ambrosio) and Joey Keller; 7 great-grandchildren; two brothers and four sisters, Leroy, Boyd, Sherry, Karen, Sharon and Belinda.
Preceded in death by his parents, son, Billy Gazell; and a brother, Venoy Gazell.
Funeral Mass, Tuesday, January 8, 2019, 11:00 a.m., Notre Dame de Lourdes Catholic Church. Vigil service, Monday evening 7:00 p.m. at the church in Price. Family will receive friends at Notre Dame Church Monday and Tuesday one hour prior to services. Committal service, Price City Cemetery. Arrangements entrusted to Mitchell Funeral Home where friends are always welcome daily and may share memories of Ray online at www.mitchellfuneralhome.net  In lieu of flowers, family suggests donations to the Notre Dame Catholic Church, Parkinson's or Lymphoma Foundations.