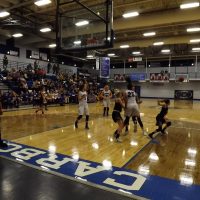 The Carbon Lady Dinos came away with a victory Tuesday night at home versus the Union Cougars 58-45.
The Dinos moved to 12-2 and a perfect 5-0 in Region 14 with the win.
Jordan Bianco led all scorers with 26 points which included a 14 of 16 night from the free throw line. Makenna Blanc added 15 points and 5 rebounds.
The Union Cougars were led by Reagan Anderson with 14 points and 9 rebounds and Codi Blake and Tori Ross  both chipped in 10.
In the fourth quarter the Cougars were able to get within 10 at one point, but then it turned into a caravan to the foul line for Carbon who had an outstanding night from the line, shooting 83% as a team.
Next up for Carbon they will get some down time as they will not take the court again until January 15 when they go on the road to play American Leadership Academy (2-7, 1-3 in region) at 7pm.