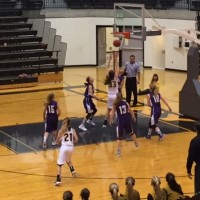 After a 24-6 first quarter the final three were just a formality as the Emery girls basketball team remained unbeaten Tuesday night on the road in Manti as they took on the Templars (5-11, 1-5 in region) .
Senior Morgan Hurdsman added 26 points while seniors  Kacelyn Toomer added 12  and Meagan Jensen dropped in 11,  in a game that was 47-18 at the half and never in doubt for the Spartans.
Manti sophomore Kassidy Alder led the team with 11 points while junior Brook Barson added 8. Manti was completely dominated from start to finish in a game in which they only scored 16 points in the second half.
Emery is still ranked number 1 in region 15 and statewide 3A with eight games left to play.  They return to the floor  Thursday night as they take on the North Sanpete Hawks (2-8, 1-1 in region) in their first meeting this year. Game time is set for 7pm in Castle Dale.