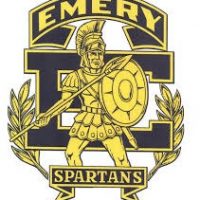 The Emery Lady Spartans started fast and never looked back in a dominating 57-26 win over the North Sanpete Hawks Thursday night at the Spartan Center in Castle Dale.
Easily improving to 13-0 overall and 4-0 in Region 15 play, the Lady Spartans outscored the Hawks 20-2 in the opening quarter. The Emery defense continued to cause issues for its opponent, holding them under double-digits in each of the four periods.
Senior Megan Jensen posted a game-high 18 points and accumulated seven rebounds in the win. Kinlee Toomer was the only other Lady Spartan to reach double-figures, finishing with 10 points. Morgan Hurdsman chipped in with six.
Emery has now outscored their region opponents 260-135 in four region games and 849-463 in all 13 games. Entering the final week of the first go-around of region play, Emery joins San Juan as the last two unbeaten teams in the division.
The Lady Spartans will return to the court on Tuesday with a road trip to Moab to face the Grand Red Devils. The week's action will come to a close on Thursday with an important home contest against San Juan at 6:00 p.m..