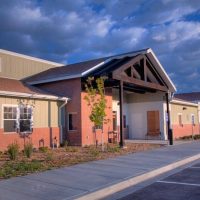 The Carbon County Family Support & Children's Justice Center serves both Carbon and Emery counties by helping children and their families build stronger and healthier relationships. The most important service offered through the CJC is their Child Abuse Prevention and Investigation Program and that is why incorporating a medical room and offering in-house therapy is an important addition to the facility.
"This has been a goal of mine for the last couple of years. Several years ago, we use to have a medical provider that would do the medical exams in their own clinic and now we are able to provide that medical service to our child victims in house. That way our children do not have to go over the mountain, they don't have to drive all the way to Primary Children's or Utah County – they can actually come to the Children's Justice Center here locally in Price," said Director, Shelley Wright. The room would be used for children that have been sexually abused or non-emergency abuse. There also may be well-baby checkups for those children that may have been abused in the past but parents just want to be reassured that their child is doing well and thriving.
As of last July, CJC now offers in-house therapy to those children & families in crisis. "It's providing trauma-focused therapy for these children who have undergone trauma and it's very specialized. So, we have a therapist, she's right now just doing ten hours a week and hopefully in July will move her position to full-time," stated Wright. There is a dire need for a full-time child therapist as they now have children on a waiting list to be seen.
Wright finished by acknowledging the community and CJC Board for the annual Christmas Tree Regalia event, "You know I just have to say kudos to our community; the awesome talent that we had coming out from the local dance companies, school's choice departments and just all of the community coming out, coming to the regalia, visiting it and enjoying their time. We also had help from Emery County as well because the funds go to support Emery County. We have a great Friends Board and they work hard and work their butts off," stated Wright. The 2018 Christmas Tree Regalia was a great fundraising event for the CJC.
To learn more about Carbon County Family Support & Children's Justice Center visit their website at https://www.carbon.utah.gov/Services/Family-Support-CJC