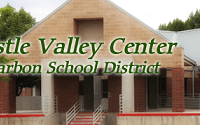 The Carbon School District weekly update takes time each week to showcase a school within the district and this the spotlight is on Castle Valley Center. Principal Mike Keller stopped by the Castle Country Radio Station to talk about the new construction taking place at the school.
"I would imagine the listening audience has gone by and wondered what that big plastic thing is on the west end of the school there. It's a covering while workers proceed in spite of the weather, the considerable snow we have had they work everyday and we're getting us a new addition," explained Principal Keller. The addition will extend the hallway out toward the west side of the school bringing in two new classrooms, three bathrooms and a multi-purpose room for the adult students. This will allow for classrooms to be located inside the school for safety reasons instead of inside the outdoor modular trailers located outside of the school building. The construction began in September of last year and completion is scheduled for April of this year.
This year the school has been focusing on a new initiative called Nice Words, Nice Hands. "Our overall goal this year for our students is to increase their communication skills in appropriate ways. For example, ask someone for help, express themselves and also take some initiative telling people hello and how are you. Now we're moving on to nice hands, nice touch with the idea that people don't appreciate it if you hit them or pull their hair," stated Principal Keller. The new initiative, Nice Words, Nice Hands has been a huge success thus fair and students are participating without any qualms.
Principal Keller finished by thanking the community, "Well I just always like to express gratitude to our wonderful community. We just have lots of support for our students from parents and others and we appreciate that very much." Guests are always welcomed at the school for a tour, to volunteer or just come to meet the students, faculty and staff.