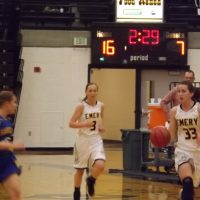 The Emery Lady Spartans clinched the Region 15 championship with a 64-31 win over the North Sanpete Hawks Thursday night at the Spartan Center in Castle Dale.
Developing a 12-5 lead at the end of the first quarter, the Lady Spartans methodically pulled away as they outscored North Sanpete in each of the four quarters. The win moves Emery to 10-0 in division play, while the Hawks dip to 2-8.
Kacelyn Toomer delivered a 17-point performance to lead the Lady Spartans in the division clinching win. Megan Jensen provided the second punch with 11 points, while Kinlee Toomer ended with ten. Hailey Allred chipped in with eight, falling just two points shy of her season high.
North Sanpete senior Tiffany Peckham tallied 11 points for the Hawks, who have now lost four consecutive games. Center Aubree Ison finished with eight and Linzy Flinders contributed seven.
With only two games on the regular season slate the Lady Spartans will participate in their final home game of the season on Tuesday against the Grand Red Devils. The finale will then take place Thursday at San Juan.