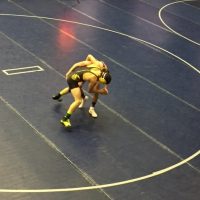 Emery High School wrestlers took part in a divisional meet over the weekend in Richfield taking second place overall and qualifying 19 wrestlers for the state tournament.
Bryon Christiansen and Gus Dalton both took first in their weight divisions. All in all Emery had a terrific showing with four second place finishes and four third place finishes.
The Spartans will now look ahead to the state tournament taking place February 15-16 at Utah Valley University.
| | | |
| --- | --- | --- |
| | 3A Divisional Tournament – Sevier Valley Center | |
| 106 | Jess Christiansen | Placed 2nd |
| 106 | Byron Christainsen | Placed 1st |
| 113 | Jarin Allen | Placed 4th |
| 113 | Jacob Ewell | Placed 3rd |
| 120 | Korby Christiansen | Placed 2nd |
| 120 | Dwain Farley | Placed 3rd |
| 126 | Drake Mangum | Placed 4th |
| 132 | James Oveson | Placed 6th |
| 138 | Chase Christiansen | Placed 2nd |
| 145 | Bryar Meccariello | Placed 3rd |
| 145 | Aidan Mortensen | Placed 8th |
| 152 | McKay Meccariello | Placed 2nd |
| 160 | Gus Dalton | Placed 1st |
| 170 | Hayes Dalton | Placed 3rd |
| 182 | Szion Gibson | Placed 4th |
| 195 | Kove Johansen | Placed 5th |
| 220 | Braden Howard | Placed 5th |
| 220 | Parker Abegglen | Placed 8th |
| 285 | James Richardson | Placed 8th |