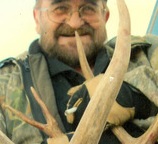 Clyde Douglas Rhinehart passed away on January 30, 2019 from illnesses caused by years of cigarette smoking. He was surrounded by his son and daughter and had his Heavenly Father's arms around him as he passed from this Earth.
Clyde was born on July 2, 1941 in Kenilworth UT to Ernest and Marie Rhinehart.
Clyde and Regina were married in Las Vegas, NV, where his older sister impersonated his mother when obtaining a marriage license because Clyde was underage. After their marriage, they moved to Tremonton, UT, where Clyde obtained work as an accountant at Fronks Chevrolet. In 1965, following the birth of their first two children, Doug and ReNae, Clyde moved his family to Riverside, CA where he and his brothers, Bill and Ernie, opened a welding business known as, Rhinehart Fabrications. This is when his third daughter, Lori was born. After the closing of the welding shop, Clyde returned to accounting and began working for Barrett Mobile Home & Transport. His employer sent him as a representative to Washington DC to testify before the Federal Trade Commission in a case involving the transportation of mobile homes over the interstate. In 1970, Barrette relocated Clyde and his family to Birmingham, AL where he was tasked with opening their corporate headquarters.
In 1972, Clyde returned to Riverside, CA where he opened his own business, Apex Carriers Inc., a mobile home transportation company which he eventually expanded to include set-up and installation. Shortly following that, he opened a mobile home sales lot in Corona, CA and named it Alpha-Omega Mobile Home Sales. As a result of the oil embargo, Clyde sold his businesses to his Uncle Herman.
Clyde was offered the position of office manager at McKesson Chemicals. He knew nothing about chemicals, yet studied night and day till he learned enough to earn the position. In 1988, Clyde was offered the position of Bank Loan Officer after he drafted and completed a loan application and submitted it to the bank.
One of Clyde's proudest accomplishments was the building of a spacious home overlooking Lake Gregory, a feat everyone told him was impossible due to the site location. Clyde was an intelligent man, a man of many traits. Over his lifetime he had varied accomplishments: business owner, licensed barber, and licensed real estate agent, self-taught guitarist, avid hunter, excellent horseman, lover of the game of pool and also taught himself Spanish. When all was said and done, Clyde decided his true pleasures were hustling at pool, and hustling women. Rest in peace, Clyde.
Clyde was survived by his ex-wife, Regina Ori Rhinehart, Spokane WA, son, Douglas "Dougie" Rhinehart, Price UT, daughter, ReNae (Jim) Bertolero, Spokane WA, brothers: Arvil "Butch" (Sally) Rhinehart, Duck Creek Village UT, John "Scott" (Bobby Puleo) Rhinehart, Orange Co. CA, sisters: Violet "Jeanette" Rhinehart, Riverside CA, Susan "Sue" Rhinehart, Riverside CA, grandchildren: Megan (Jake) Turner, Cheney WA, Kandice (Matt) Curtis, Spokane WA, Auston Taylor, Spokane WA, Britnie (Ben) Tyler, Spokane WA, Alexis DeSautel, Spokane WA, Hunter Douglas Kulow, Price UT, Cameron Rhinehart, Price UT, seven great-grandchildren in Spokane WA, and numerous cousins, nieces and nephews.
He was preceded in death by his father and mother; brothers, William, Jim and Ernie; his sister, Laura; and his beautiful daughter, Lori.
Memorial service, Tuesday, February 12, 2019, 11:00 a.m., Mitchell Funeral Home (233 East Main Street) in Price. Family will receive friends one hour prior to service. Arrangements entrusted to Mitchell Funeral Home of Price where friends are always welcome daily and may share memories online at www.mitchellfuneralhome.net.
In lieu of flowers the family suggest donations to www.waytoquit.org.