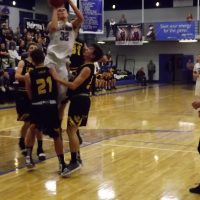 The Carbon Dino boys basketball team lost to the Union Cougars 60-53  in Roosevelt on Wednesday night.
In a game that was rescheduled due to weather, Carbon came out in the first half scoring 13  points in the first quarter and just 10 in the second to trail by four points at halftime. They outscored Union in the third, a quarter that has given the Dinos their share of problems but fell flat again in the final act.  The Dino went 6-of-10 from the foul line and trailed late in the fourth and were forced to foul sending Union to the foul line were they shot 68% on the evening.
Carbon was led by junior Kaleb Nelson who had 16 points on the night, senior Collin Lewis dropped in 15 points to go with his 10 rebounds, Ty Anderson had 10 and Derek Hillam added 9 points and 13 rebounds.
For Union senior Reid Price led the way with 16 and senior chase Birchell added 12 points. Jaxson Davis also had 9. Union sits at 11-11 overall and 8-5 in Region 14 play and are done with their regular season.
Carbon (7-14, 4-7 ) sit in fifth place in Region 14 and will likely play a number one seed in the first round of the state tournament. The Dinos final game of the regular season is this Friday on the road at American Leadership Academy (4-16, 1-10 in region). The two teams met January 16 and Carbon walked away with a 73-57 victory. Join us on 95.3 The Peak at 6:30 for the Landon's Diesel pre-game tip-off follows at 7:00 pm. you can also stream live at castlecountryradio.com