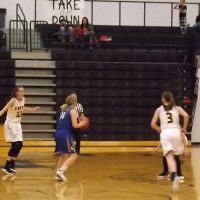 The Emery Lady Spartans closed out the home portion of the 2018-19 schedule in style with a 106-34 win over the Grand Red Devils Tuesday evening at the Spartan Center in Castle Dale.
Opening a 31-6 lead by the end of the first quarter, Emery rolled through the next three periods outscoring Grand by double-figures in each of the intervals.
Kinlee Toomer ended with a game-high 24 points, finishing with three makes from beyond the perimeter. Megan Jensen added 23 points and Morgan Hurdsman finished with 20.
Kacelyn Toomer added to the offensive explosion with 20 points and fellow senior Ambree Bennett ended with ten. Bailey Huggard rounded out the senior scoring with six.
Emery overwhelmed Grand throughout the contest, converting 43 field goals compared to only 12 for the Red Devils. Now 11-0 in league play, the Lady Spartans have outscored their opponents 780-397.
With the Region 15 championship already secured Emery will wrap up the regular season with a trip to Blanding on Thursday to meet the San Juan Broncos. The team will then turn it's attention to the play-in round of the 3A State Tournament Friday, Feb. 15 at Orem High School.