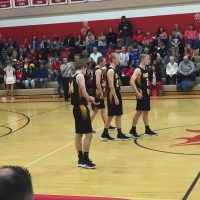 The Emery Spartan boys basketball team suffered a heart breaker to Grand on Wednesday night 94-82 in Moab.
Emery led early on, however Grand came out on fire scoring 33 points in the first quarter. Emery would never lead again trailing by as much as 16 in the first half, they would come back to tie it up but Grand never surrendered the lead in the second half of play.
Led by Brax Jensen with 21 points, Brodie Tuttle would add 15 and Mason Fimalo dropped in 14. Kyson Stilson hobbled with an ankle injury scored 6 points on a night that would see both Rance Jensen and Kyler Wilstead foul out down the stretch.
For Grand, seniors led the way in their final home game, Connor Guerrero would score a game high 26 points while Kevin Park would add 20 and Tyson Horton would score 17.   Grand now 14-6 overall now sits tied with Emery at  5-6 in Region 15 play, they also split the season series with each team winning on their home floor. Grand's final game of the season will come this Saturday at San Juan.
Emery  (13-7, 5-6 in region) will come home for their final game of the regular season on Friday night against San Juan. In a must win game just to keep pace in what some may say is arguably the toughest region in all of 3A. With the state tournament right around the corner, Emery can't afford another loss. When these two teams met for the first time in January, Emery was defeated 105-100 in a high scoring affair in Monticello. That night saw Kyson Stilson go off for a career high 46 points and had four Spartans score in double figures.
The game against San Juan is set to tip-off at 7:00 pm. Join us on KOAL 750 AM or 107.3 FM at 6:30 for the Landon's Diesel pre-game show or stream the game live on castlecountryradio.com