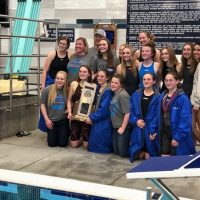 The Carbon Lady Dinos clinched their first 3A State Championship in the swimming pool by topping Rowland Hall by one-point Thursday afternoon at Brigham Young University in Provo.
Depth proved to be the difference as Carbon claimed the championship without taking first place in any single event. In fact, the highest single event finish for the Lady Dinos ended up being third on five separate occasions.
Judge Memorial ended in a close third with 257 points, followed by Emery with 234. Richfield rounded out the top with 199 points as a total of 21 schools competed for the crown.
Senior Megan Swasey logged third place finishes in both the 50 yard free and 100 yard backstroke. Tyrca Jaramillo gave Carbon another third place nod in the 100 yard breaststroke.
Swasey joined forces with Thalyn Lyman, Sofia Crompton and Kacee Barrett in the 200 yard free relay, adding more points to the team's total with a third place finish.
Jaramillo, Crompton, Emily Jespersen and Nicole Swasey also scored third place in the 200 yard medley, the first competition of the event.
Thursday's State Championship performance comes just two weeks after the Lady Dinos dominated the competition at the Region Championship on Jan. 24.
The Carbon boy's swim team accumulated 69 points at Thursday's finale, placing them 14th out 22 schools.
While the boy's team failed to finish top three in any one individual event, the team found success with senior Kinnon Lyman. After finishing 6th in the 50 yard free, Lyman added an 8th place performance in the 100 yard free.
Click below to view the complete 3A State Championship results:
State-Championship-Results