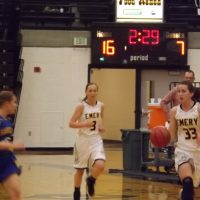 The Emery Spartans dismantled the San Juan Broncos on Thursday night 83-47 in Monticello. The Spartans finished the regular season 21-0 and have now extended their winning streak to 36 games.
The Spartans started fast and never looked back going up by 10 points in the first quarter and extending that lead to 16 by halftime. Emery was led by senior Meagan Jensen with a game high 39 points, she had an excellent shooting night going 15-of-21 from the field she also shot 80% from behind the three point line. The only other Spartan to score in double figures was Kacelyn Toomer with 13, in a night that provided a well balanced attack which had 11 team members score.
This was just another in a long line of victories that the lady Spartans have gotten used to, this season they have outscored opponents 1455-771. Averaging just under 70 points per game to go with 34 rebounds , 15 assists and 13 steals, they aren't just beating teams they are dominating them. Their closest game this season was a 10 point victory over North Summit back in December and their largest a 73 point win over Grand just this past week.
San Juan was led by junior Madi Palmer with 16 points and Delaney Palmer with 13. The Broncos sit at 11-10 overall and 5-6 in Region 15 with one game left on the schedule a road game against Grand in Moab.
The Spartans on the other hand, go into the 3A tournament with the #1 seed and will not play again until next Friday in Orem. Tip off is scheduled for 3:10 pm. You will be able to listen to the game on KOAL 750 AM and 107.3 FM as well as stream the game at castlecountryradio.com.