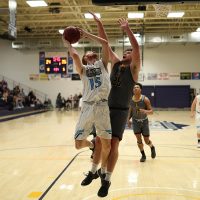 Loren Miller, USU Eastern Sports Information:
PRICE – Utah State Eastern Men's Basketball lost to the College of Southern Idaho Golden Eagles 65-54 on Thursday in Twin Falls.
In the beginning of the game it was a very low scoring game as both teams didn't reach double digits until there was 12 minutes left in the half.
Both teams would go back and forth with neither team able to build a lead and would struggle offensively.
"Both teams did a really good job on defense and stopping the team's best scorers," said USU Eastern forward Vojtech Ruzek.
Each team scored below 37% from the field and under 21 % from three in the first half.
"We didn't execute wellm we missed a lot of open layups and didn't get to the free throw line enough in the first half," said Ruzek.
USU Eastern managed to take a 29-27 halftime lead despite being out rebounded by CSI 31-23.
Ruzek had seven points off the bench in the first half while starting forward Stevan Jeremic dealt with early foul trouble.
It was more of the same in the second half as both teams would battle and keep things close until almost midway through the second half.
CSI would take an 11 point lead with eight minutes to play in the game as USU Eastern struggled to get the ball to go in.
The Eagles shot only  25.6 percent from the field and 18.2 percent from three point territory in the second half.
CSI would continue to hold momentum and the lead in the final minutes as they would go up as much as 13 points on USU Eastern.
With the loss, the Eagles conference record now sits at 4-4 which puts them in a tie for fourth place with Salt Lake Community College.
Sophomore forward Chase Berry and freshman guard Blaze Nield each finished with a team-high 13 points. Berry also grabbed nine rebounds while Nield had six on the night.
"Chase came through strong for us tonight on offense especially finishing through contact. Both him and Blaze did a really good job on defense and securing rebounds," said Ruzek.
Jeremic was the team's leading rebounder with 12 boards while also putting in six points and two blocks.
The Eagles will head to Taylorsville to take on Salt Lake on Saturday.
Tip off against the Bruins is scheduled for 5 p.m. inside Bruin Arena.
The game can be seen live on the Scenic West Digital Network at scenicwestnetwork.com.